Road Work II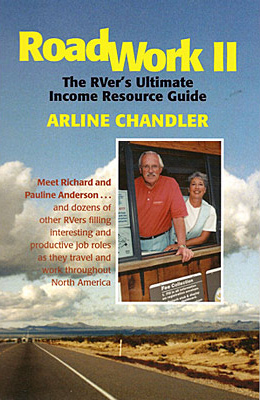 Subtitled "The RVer's Ultimate Income Resource Guide," this book gives faces and personalities to real-life Workampers and the employers who hire them.
Through their shared experiences and tips for finding productive and profitable jobs on the road, this guide is a springboard for an RVer's imagination and ingenuity in seeking income earning opportunities compatible with individual interests.
Paperback. 498 pages. Written by Arline Chandler.
Here's what Chuck Woodbury, editor of NewRVer.com has to say:
"Oh my goodness. . . is this a piece of work! What an awesome book, just two pages shy of 500 pages. If an RVer looking for work on the road doesn't find the advice or job they're looking for here, well, then they're probably unemployable. But seriously, this book goes well beyond the usual "how-to" advice (although it has plenty) to actually profile Workampers and the employers who hire them.
In addition to entertaining glimpses into the working RVer's lifestyle and viewpoints from employers, this book offers information on how to do your Workamping homework, how many hours of work should you expect to do in exchange for a campsite, how to get jobs outside campgrounds and how to operate an on-the-road business. Author Arline Chandler doesn't miss a thing. Virtually every type of job is profiled from positions in national parks to those at Disney, golf courses, lodges, on cruise ships, in wildlife programs and countless other places.
In addition, Chandler provides extensive information about volunteer positions, where Workampers can truly help enrich other peoples' lives. This book is worth every penny of its price and more. You will love it."
-- Limited quantity! And no further copies will be printed. Get yours today! --
RV Maintenance Training Options Available from NRVTA

We have been using WORKAMPER NEWS for over ten years. We have gotten...
Read more