RV Refrigerator Maintenance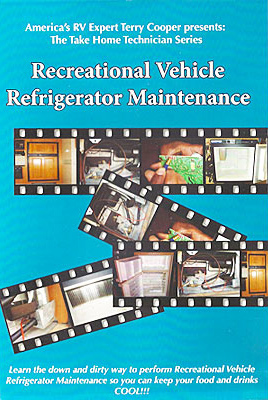 America's RV Expert Terry Cooper presents the Take Home Technician Series – Recreational Vehicle Refrigerator Maintenance. Learn the down and dirty way to perform RV refrigerator maintenance so you can keep your food and drinks COOL!
In this video, the Texas RV Professor will show you how to service your RV refrigerator for less than 1/3 the cost of a service call and 'keep 'er going!'
Why will you never hear a compressor motor on a RV refrigerator? Because there isn't one!
Learn how this type of refrigerator stays cool by using heat from a propane flame or heating element.
Did you know that 80% of the problems we have with our RV refrigerator are things we can fix?
Do you know that for every minute the door of your RV refrigerator is left open it takes the refrigerator 1 hour to recover?
Learn:
Dometic or Norcold – which brand is yours?
How your RV refrigerator works
3 things you MUST have so your refrigerator will work properly
Quick troubleshooting tips to keep you going
Simple test to check the efficiency of your refrigerator
Other tips and tricks you need to know
DVD. Produced by Terry Cooper, the Texas RV Professor and RVDA-RVIA Master Certified RV Service Technician.

Receive 6 Bonus Months When You Join - Renew - Upgrade Your Membership...
Read more

Workamper News has a lot of great information no matter your dream job...
Read more