9 Unique Jobs, RVing in the Heat, & More in New Issue
Posted by

120632

on 04/26/2022
Read the May/June 2022 issue of Workamper News Magazine Online Now!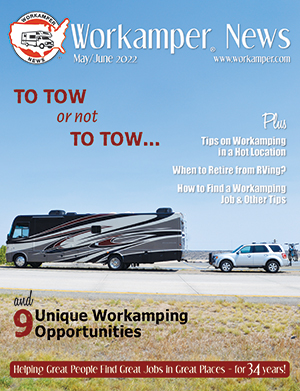 Featured Article: 9 Unique Workamping Opportunities
While most Workamping opportunities fall under the outdoor-hospitality-industry umbrella, there truly is a big variety of positions, compensation, and experiences. Here, we'll explore nine unique opportunities for those seeking something other than the traditional campground/RV park experience.
This issue also includes...
Help Wanted Ads for now and future seasons
Tips on Workamping in a Hot Location
When to Retire from RVing?
To Tow or Not to Tow
Work Wanted Ads to help Employers find their staff
How to Find a Workamping Job
23 Workamping Tips
and more!
Click here to visit our Online Magazine Archive to view the May/June issue. Note: You will need to be logged in at Workamper.com to view it, as it is a benefit of your Workamper membership. If you're not logged in yet, click here.
Diamond & Platinum members - you have access to this new issue now. Intro & Gold members, y'all can now view the Mar/Apr 2022 issue; your access to the May/June 2022 issue will begin in June (after we publish July/Aug).
Login to www.workamper.com and click on the Online Magazine button on your Dashboard.
To upgrade your membership level for access to more tools (and immediate access to the new issue), click on the Upgrade/Renew button on your Dashboard.
September 14, 2022
If you've been with us for awhile, you've probably seen our...
Read more


Workamping Q&A #7 - Your Questions Answered
July 27, 2022
March 17, 2021
We are finally doing it! We found several jobs listed in the latest...
Read more