COVID-19 Vaccine and the Workamping Community
Posted by

120632

on 01/24/2021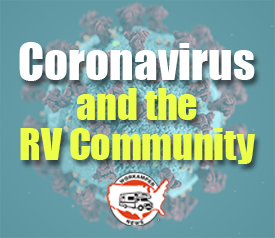 Here we will compile resources and information relative to Workampers and Employers regarding the COVID-19 vaccine.
Updated 1/24/2021
No one knows yet exactly what the travel-life will look like this year and into the future. We have to take it day by day, and try to remain civil and hopeful. It's no surprise that things have changed and will continue to change.
No matter our thoughts on the origins/purpose/results of the pandemic and the vaccine - it is something that we as Americans are dealing with. How you deal with it is your choice.
Going forward, in order to make the best choice for you, it is advisable for Workampers to add another question to their list of interview questions when you are interviewing an Employer that you are considering working for. "Will you require or request that your Workampers have the COVID-19 vaccine?"
You can then use that answer, along with the other information you have acquired, to decide if that opportunity is going to be right for you or not.
Likewise - Employers, you will need to make a determination of how you will answer this question. We also encourage you to include this input on the work agreement you create to be signed by you and your hired Workamper(s) before the Workamper arrives to begin the position.
---
Blog from RVLife.com
Will RV Parks Start Requiring Proof Of Vaccination?
"...when we think of travel we tend to think of terms like airlines, cruise ships, taxis, and hotels. Within that genre, CNN predicts that If you want to travel next year, you may need a vaccine passport. Will those travel mandates include RVing and RV travel? We might anticipate seeing individual campgrounds making those decisions independently, but with so many conglomerates and chain acquisitions in the last couple of years, you can expect that corporate decisions will have to be made and pushed to their campgrounds across the board. Your best bet is to plan your RV trip ahead of time, make reservations, and ask each campground if they will require proof of vaccination."
---
HIPAA and the sharing of personal health information
Here's what we found via this page.
"Your employer can ask you for a doctor's note or other health information if they need the information for sick leave, workers' compensation, wellness programs, or health insurance.
However, if your employer asks your health care provider directly for information about you, your provider cannot give your employer the information without your authorization unless other laws require them to do so.
Generally, the Privacy Rule applies to the disclosures made by your health care provider, not the questions your employer may ask."
---
Regarding Employers Requiring or Recommending the Vaccine
Here is an article from the AARP summarizing information provided by the EEOC regarding employers requiring or recommending the vaccine.
"The question has become more urgent since the U.S. Food and Drug Administration (FDA) granted Pfizer and BioNTech's coronavirus vaccine emergency use authorization on Dec. 11. The short answer: Yes. An employer can make a vaccination a requirement if you want to continue working there. But there are significant exceptions for potential concerns related to any disability you may have and for religious beliefs that prohibit vaccinations. And experts say that employers are more likely to simply encourage their workers to get immunized rather that issue a company-wide mandate."
Here is a link to the EEOC's report on What You Should Know About COVID-19 and the ADA, the Rehabilitation Act, and Other EEO Laws
---
COVID Vaccination Info for RVers
Article/website page with info here from FMCA.
"Travel was greatly restricted in 2020 in an effort to stop the spread of COVID-19 into communities that hadn't been affected yet. States began issuing 14-day quarantine orders for incoming travelers, and international borders remained closed for months. With the spring travel season approaching, we want to make sure you have all the information you need regarding COVID-19 vaccines and how to safely and quickly get yours."
Article/website page with info here from Escapees
"Information for specific states. With so many different state and local policies in effect, and with those policies still evolving and possibly changing day to day, Escapees is unable to offer specific guidance for every state. Where the club is aware of state-specific information, we will add it below along with a link to the source. However, we strongly advise that you verify the information when you make an appointment at a specific vaccine administration site."
---
Travel Restrictions By State
Provided by ARVC.org (National Association of RV Parks & Campgrounds)
---
Mask Wearing on Federal Lands (like National Parks) instated by President Biden January 2021
"Accordingly, to protect the Federal workforce and individuals interacting with the Federal workforce, and to ensure the continuity of Government services and activities, on-duty or on-site Federal employees, on-site Federal contractors, and other individuals in Federal buildings and on Federal lands should all wear masks, maintain physical distance, and adhere to other public health measures, as provided in CDC guidelines."
CDC guidelines for wearing masks here. "Masks may not be necessary when you are outside by yourself away from others, or with other people who live in your household. However, some localities may have mask mandates while out in public, please check for the rules in your locality."

November 8, 2023
Receive 6 Bonus Months When You Join - Renew/Extend - Upgrade Your...
Read more


Answering the FAQs of Hiring Workampers
November 30, 2016
March 6, 2023
We've been paying members of workamper.com (Workamper News) off and...
Read more