New Issue Includes Jobs & 12 Articles
Posted by

120632

on 10/24/2022
Read the Nov/Dec 2022 issue of Workamper News Magazine Online Now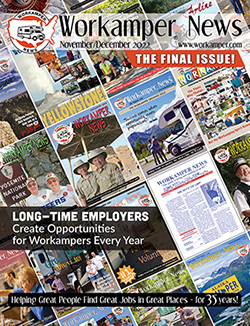 Our Final Issue!
Featuring long-time Employers that create opportunities for Workampers every year, some for over 30 years! The travel article is a compilation of input from our readers. And, to celebrate our different contributors over the years, we've included some of our favorite articles from past issues.
This issue also includes...
Help Wanted Ads for Now and Future Seasons
Traditional Workamping Jobs versus Remote Work
A Tour of America: Workampers' Favorite Places for Beauty, Culture, and Adventure
Learning to Use Workamper News Magazine Online Archive
Historical Article - The Questions of Workamping
Historical Article - Fundamental FAQs About Workamping
Historical Article - Workamping in Big Bend National Park
Historical Article - Doing the Math on a Workamping Opportunity
Historical Article - Six Parks and Seven Months
Historical Article - Body Language & The Workamper Interview
Historical Article - A Solo Woman's Healing Journey
Work Wanted Ads to help Employers find their staff
The Most Powerful Job Search is Here! All About the Hotline
and more!
Click here to visit our Online Magazine Archive to view the Nov/Dec issue. Note: You will need to be logged in at Workamper.com to view it, as it is a benefit of your Workamper membership. If you're not logged in yet, click here.
Diamond & Platinum members - you have access to this new issue now. Intro & Gold members, y'all can now view the Sept/Oct 2022 issue; your access to the Nov/Dec 2022 issue will begin in January 2023.
Login to www.workamper.com and click on the Online Magazine button on your Dashboard.
To upgrade your membership level for access to more tools (and immediate access to the new issue), click on the Upgrade/Renew button on your Dashboard.

September 6, 2023
Frequently Asked Questions about Workamping.
Whether you're...
Read more


Answering the FAQs of Hiring Workampers
November 30, 2016
September 27, 2022
We have been using the Workamper Diamond membership level for over a...
Read more