November Specials For Workampers & Employers
Posted by

120632

on 11/15/2021
6 Free Bonus Months For Workampers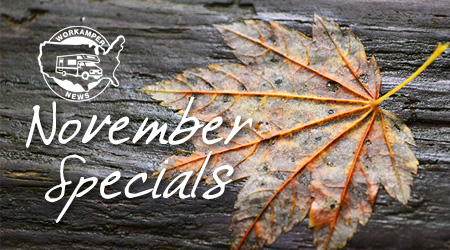 We are so thankful that you are part of the Workamping Community! We want to help you live your dream of traveling America and as our Thanksgiving gift to you we will add 6 months to your membership when you join, upgrade or renew for one year at our Gold, Diamond or Platinum level.
Enter the promo code THANKFUL21 when you join, upgrade or renew and we will add 6 extra months to your membership. Expires 11/30/21.
(NOTE: It may take a few days before the new expiration date is reflected on your membership account - this is a manual change and may take the staff extra time.)
Helping to make a difference: This year $2 from every membership sale, using the THANKFUL21 promo code, will be donated to Safe Harbor Farm – a safe-haven for animals, and Workampers too!
SHF has been utilizing volunteer Workampers for 17+ years to help maintain their facilities including 2 miles of forested dog-walking trails.
Safe Harbor Farm is 61-acre, not-for-profit facility in Maysville, North Carolina, developed in large part by Workampers. Core volunteers at SHF care for 20-30 animals on a daily basis, but their primary mission is to keep good dogs in good homes by providing their owners with user-friendly, positive, and practical training in canine and human behavior. Their latest big project has been developing the Dragonfly Dog Park & Nature Trails. Workampers at SHF help primarily with landscaping and maintenance tasks in trade for a FHU site.
This year, $2 from every membership sale (that includes the THANKFUL21 promo code), will be donated to Safe Harbor Farm to help them continue their mission!
Click here to join - renew - upgrade your Workamper membership.
Thankful21 promotion applies to a one year Gold, Diamond or Platinum Workamper membership purchased between 11/11/21 and 11/30/21 and submitted with the Thankful21 promo code. Cannot be combined with other offers. Members who already have an active membership are welcome to extend (renew) their membership. The 18 months will be added on to your current expiration date.
---
Free Help Wanted Ad For Employers
If you are on the hunt to fill your open Workamper positions, we wanted to let you know we are offering a special bonus right now!

When you upgrade to or renew with Employer Gold membership, we will give you a 50-word plain text help wanted ad in the Jan/Feb 2022 issue of Workamper News magazine for FREE!**

Here's how you can receive this special bonus:

Option 1: Login to www.workamper.com using the link in the top right. Click on the Upgrade/Renew button on your Dashboard. Select the one year Gold membership and enter GOLD21 in the Promo Code box. Once you have your help wanted ad written up, please email that to [email protected] by 12pm CT on 12/10/21.

Option 2: If you already have your help wanted ad text ready to go, you can login to www.workamper.com and click on the Submit an Ad button. In the membership step of the ad submit process, please select the Gold membership. Then in the Create Ad step, please type GOLD21 into the Notes & Comments field. Be sure to enter in your ad text, state location, add a logo (also free!) if you like, and complete the submission process.

The ad submit process does not automatically charge your credit card or create an invoice; we handle all of the ad requests manually so we will apply the bonus accordingly.

If you would like to have over 50 words in your ad text, you definitely can - we will be sure to apply the $25 value of the free ad to your total ad cost.

This special bonus is only available until December 10th! Please upgrade/renew and get your ad in soon.*
*Free ad applies to a magazine ad in the Jan/Feb 2022 issue only. Bonus only available to Employer members who join, renew or upgrade their membership to Gold with promo code GOLD21 between 11/12/21 and 12/10/21.

December 1, 2023
New Version of Workamper.com is getting closer to launch!
...
Read more


Workamping Q&A #18 - Your Questions Answered
July 26, 2023

July 13, 2014
Tom and I are now three weeks into our fulltime RV life and it is great...
Read more