RV Community & the Coronavirus
Posted by

120632

on 03/25/2020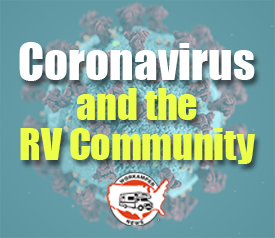 There's a full range of opinions and feelings scattered throughout the RV community at this time. In social media channels, it appears the majority are hopeful, and that's where Workamper News resides as well.
Employers are still putting out calls for "help wanted" and Workampers are reporting no changes or just postponments to their summer plans for the most part. A few Workampers have shared online that their positions were terminated, but we have not heard anything directly from any Employers or Workampers. We're all hopeful for a successful summer season, even if it begins a bit later than expected.
Don't let fear overtake you. Stay abreast with what's happening by reviewing content published by the industry. Communicate with your current or future Employer. Employers - let your Workampers know what's going on even if it's just "we're waiting to see how it goes."
Here are some links we've compiled we hope will assist you and our community:
State-by-state list campground and other closures
RVlife.com - what is open and what is closed state-by-state
State-by-state list of extended stay parks that are open
Alternative camping options - Boondockers Welcome and Harvest Hosts
RVTravel.com Coronavirus news that impacts RVers
Sign the petition to keep RV campgrounds open
RV Industry Association's response to coronavirus
Escapees RV Club's response to coronavirus
Help for RV park owners/operators from ARVC
Updated 3/24/2020


Answering the FAQs of Hiring Workampers
November 30, 2016
Whether you're new to hiring Workampers or have been utilizing...
Read more
September 9, 2019
My third week of my first Workamping experience has come to an end....
Read more