Buying or Selling an RV?
Posted by

120632

on 07/05/2016
A few months ago, Workamper News partnered with RV Trader - the country's premier website for buying and selling RVs. RV Trader makes it easy for our members to peruse, review, and buy an RV from dealers or private sellers across the country. With over 150,000 RVs available, your dream RV is just a click away!
Interested in selling or upgrading to the RV of your dreams? We have partnered with RV Trader to bring you an exclusive discount, available for Workamper News members only:
Receive $10 off your RV listing by visiting www.rvtrader.com/sell and selecting the "Enhanced" option. At checkout, enter the code "WORKAMPER10" for your $10 discount. With this selection, your listing will run for 8 weeks and you can include 20 photos, a video option and a featured placement of your RV for sale.
Here is a recent testimonial for RV Trader:
"You are without a doubt number 1 in advertising for an RV! I received a total of 10 leads within 24 hours! One of the leads I responded to was a couple leaving from Myrtle Beach traveling home. They asked for the exact address...and arrived to see my motor home. After about 1-1/2 hours of inspections, they made the decision to buy. My motorhome is paid for, signed, sealed and delivered with 24 hours of ad being entered. What a fantastic site. Thank you so much!" -J. & G. Moore of Thomasville, NC
For more information on selling your RV, please visit www.rvtrader.com/sell
You may also have seen the new feature added to Workamper.com - Login and on your Dashboard you'll find an"RVs for Sale at RV Trader" button. Click on that button to review RVs for Sale with a few easy clicks!

---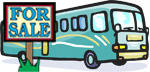 Did you know 60 percent of the RVs on the market today are sold by private owners?
Many RV buyers don't know what to inspect when purchasing an RV and end up with costly repairs after the purchase. Savvy RV buyers know the best way to save money and have peace of mind when considering the purchase of an RV is to get it inspected!
The RV industry deserves a professional fleet of RV inspectors that will provide quality RV inspections for the millions of used RVs on the market today. Workamper News recommends checking out RV Inspection Connection. They are committed to helping you acquire a quality RV inspections.
Selling an RV? Your buyer will feel more confident about purchasing your RV, and the inspection report can help reduce post-sale issues. With a comprehensive, easy-to-read report detailing everything that was examined by a professional RV inspector, you can confirm that your RV really is a dream come true!
Contact them for more info - [email protected] - www.rvinspection.com

September 6, 2023
Frequently Asked Questions about Workamping.
Whether you're...
Read more


Workamping Q&A #13 - Your Questions Answered
January 25, 2023
May 9, 2023
To the staff at Workamper News, my wife and I just wanted to once again...
Read more