Job Details Revealed in These Jobinars
Posted by

120632

on 03/20/2023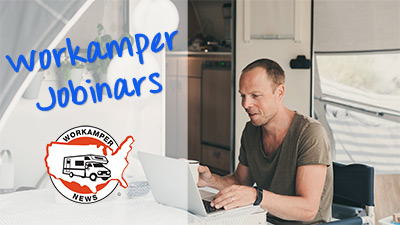 Workamper News has coined the word "Jobinar" to describe an online webinar where Employers share all of the details of their Workamper opportunities to interested potential Workampers from anywhere live! Workampers who attend these free webinars can submit questions to be answered by the presenting Employer.
It's a great way to learn more to help you determine if this opportunity is right for you!
Scheduled Jobinars Coming Up:
None at this time.
---
Recorded Jobinars Available to Watch Now:
1. Express Employment Michigan Sugar Beet Harvest
Learn everything you need to know about Workamping for Express Employment Professionals at the MICHIGAN Sugar Beet Harvest! Starting wage of $19.05/hr! Camping fees paid! NOT working in the fields. No experience necessary. Weekly overtime! Positions include Piler Operators, Special Equipment Operators, and Harvest Leaders.
2. Express Employment Hiring for Digi-Key
Learn everything you need to know about Workamping for Express Employment Professionals teaming up with Digi-Key to bring you an opportunity in Minnesota. Hourly Wages - Night Shift Differential - Essential Worker Pay - Overtime Available - Paid Campsite.
3. Express Employment The Unbeetable Experience
Learn everything you need to know about Workamping for Express Employment Professionals recruiting for the Sugar Beet Harvest. Earn up to $3,700 in 2 weeks! (Harvest length varies based on mother nature.) Eastern North Dakota & western Minnesota. Camping fees paid! Work at the receiving stations - not in the fields.
4. Aramark Destinations
Learn about working, living, and exploring Aramark Destinations for Summer 2023. We offer a variety of work opportunities with a large dose of adventure. We're hiring CDL drivers, Boat Captains, Boat Mechanics, Maintenance, Culinary, Housekeeping, Retail, Guest Service, Front Desk, Security, Groundskeepers, and more! Positions available at multiple parks, including Crater Lake, Lake Powell Resorts & Marinas, Mesa Verde, Grand Canyon – North Rim, Mormon Lake and more! Housing options include RV sites with full hook-ups and dorm-style housing.
5. Delaware North - Yellowstone General Stores - Summer 2023
Learn everything you need to know about Workamping in Yellowstone National Park with Delaware North at Yellowstone General Stores. Don't miss this opportunity to learn how you can live and work in Yellowstone National Park! Delaware North Parks & Resorts is getting ready for next season at Yellowstone General Stores. As partners of the National Park Service, we operate stores throughout Yellowstone ranging from gift shops, outdoor recreation, and food service. We'll be hiring for cashiers, cooks, retail leads, porters, kitchen helpers, and much more. All hours are paid and seasonal bonuses may apply! Full hookup RV sites are available; site fees are deeply discounted and typically include water and sewer. Electric is billed separately. We also offer an employee meal plan at most sites, store discounts, and free recreational activities.

May 11, 2023
Detailed information on many aspects of the Workamping and RVing...
Read more


Michigan Sugar Beet Harvest Jobinar
March 23, 2023
September 9, 2019
It is getting more real every day! Today I picked up my used travel...
Read more