New July/Aug 2018 Issue Available Now!
Posted by

214397

on 06/26/2018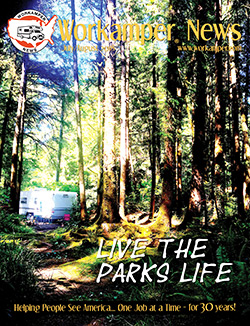 The new issue of Workamper News Magazine is now available online and in print! Members can view featured content, help wanted ads, and more in the 50+page lifestyle magazine for people who work and travel.
The fourth issue of the 2018 year features a variety of content to keep readers interests peaked with a special focus on California State Parks, where Sharee Collier, details the ins and outs of what it means to Live the Parks Life! Dive deep into the specifics laid out for everyone interested in working in the nation's largest state park system which includes almost 300 properties! Once you have all the details, flip though the special listings of open positions for current and future seasons.
In addition to good reads, Workampers looking for jobs for upcoming seasons will have over plenty of ads to choose from as this issue is packed with Employers looking to find hires!
Login to as a Gold member at www.workamper.com and start reading today!

November 8, 2023
Receive 6 Bonus Months When You Join - Renew/Extend - Upgrade Your...
Read more


Workamping Q&A #17 - Your Questions Answered
June 28, 2023

July 8, 2020
I appreciate everything that you guys are doing for us.  I...
Read more