USACE Featured Jobs, Apps for RVers, and More in Sept/Oct Issue
Posted by

120632

on 08/26/2022
Read the Sept/Oct 2022 issue of Workamper News Magazine Online Now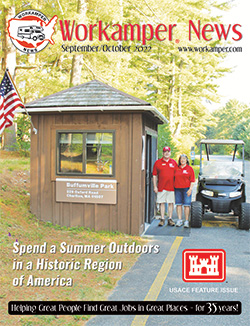 USACE Feature Issue! Spend a Summer Outdoors in a Historic Region of America
We have an exclusive contract with the U.S. Army Corps of Engineers, so in this issue you'll find a great article showing what volunteer Workampers do at a USACE project in Massachusetts, plus special volunteer and contract Workampers-Wanted Ads for projects all around the U.S.!
This issue also includes...
Help Wanted Ads for Now and Future Seasons
Best Apps for RV Travel
Flying South for the Winter (Snowbird States)
How to Handle Taxes in Multiple States
How to Find a Workamping Job
Work Wanted Ads to help Employers find their staff
How to Recruit & Retain Workampers
The Most Powerful Job Search is Here! All About the Hotline
Member Map - Find Friends, Investigate Places
and more!
Click here to visit our Online Magazine Archive to view the Sept/Oct issue. Note: You will need to be logged in at Workamper.com to view it, as it is a benefit of your Workamper membership. If you're not logged in yet, click here.
Diamond & Platinum members - you have access to this new issue now. Intro & Gold members, y'all can now view the July/Aug 2022 issue; your access to the Sept/Oct 2022 issue will begin in October (after we publish Nov/Dec).
Login to www.workamper.com and click on the Online Magazine button on your Dashboard.
To upgrade your membership level for access to more tools (and immediate access to the new issue), click on the Upgrade/Renew button on your Dashboard.

September 6, 2023
Frequently Asked Questions about Workamping.
Whether you're...
Read more


Workamping Q&A #17 - Your Questions Answered
June 28, 2023
September 9, 2019
My third week of my first Workamping experience has come to an end....
Read more