Volunteer Workamping Featured in Sept/Oct Issue
Posted by

120632

on 08/24/2019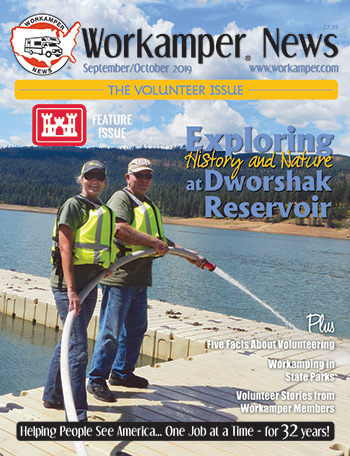 The Sept/Oct 2019 Issue of Workamper News Magazine is Now Posted!
And it's one of our biggest issues yet! Our theme this issue: Volunteering.
Volunteering is one way to experience the Workamping lifestyle. Whether you want to totally focus on volunteering or do it now and then, volunteer assignments can help you achieve your goals for the RV lifestyle. This issue highlights many great volunteer opportunities with articles and quotes from Workampers who are living them!
This issue is also the annual U.S. Army Corps of Engineers feature. You will find an article about Workampers at one of their projects in Idaho, along with help wanted listings for volunteers and paid contract gate attendants in a variety of their projects for 2019-2020.
In this issue:
Workamper help wanted ads organized by state
Playing 20 Questions: What to Ask a Prospective Employer
5 Facts About Volunteering
Workampers Helping Workampers
Vermont State Parks Offers Workampers Appreciation, Perks, and Purpose
Big Opportunities in the Cowboy State
Four Article Submissions by Workamper Members on Their Volunteer Experience
Exploring History & Nature at Dworshak Reservoir
Critical RV Industry Shortage Creates Unprecedented Opportunity
Diamond & Platinum members - you have access to this new issue now. Intro & Gold members, y'all can now view the July/August issue; your access to the Sept/Oct issue will begin in October (after we publish Nov/Dec).
Login to www.workamper.com and click on the Online Magazine button on your Dashboard, or click here to go straight to the magazine page if you're already logged in.
To upgrade your membership level for access to more tools (and immediate access to the Sept/Oct issue), login to www.workamper.com and you'll find an Upgrade/Renew button on your Dashboard.

November 8, 2023
Receive 6 Bonus Months When You Join - Renew/Extend - Upgrade Your...
Read more

December 19, 2019
Planned, dreamed, researched and window-shopped for 3 years. Purchased...
Read more